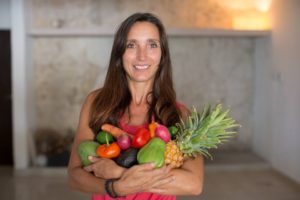 Bio: Lucia Di Cesare, founder of Simply Healthy Living, is a Registered Holistic Nutritionist equipped with a degree in Chemistry and love for food! The perfect combination to guide you through creating a healthy lifestyle that will help you thrive. Her goal is to teach you that preparing healthy meals can be simple and delicious. She will teach you her simple way of managing a healthy diet with a few basic principles, forget the fancy tables and calculators! Eating amazing healthy food should bring you joy and energy, not stressful and draining.
The Food: Each meal will be prepared for you with 100% certified organic ingredients. Please feel free to join in on the preparation of any meal and Lucia will guide you through the process so you can learn to make these meals on your own. During each meal we will have an open discussion where Lucia will explain the ingredients used and why.
please let us know in advance if you have any allergies or intolerances.
The Lectures: The first lecture will be how to create a balanced diet to ensure all your nutritional needs are met. We will discuss macronutrients and micronutrients, and their role in a healthy body. The second lecture we will discuss cleanses and detoxes, when you should or shouldn't do them. What are some options? Why should we incorporate cleanses?
Optional:
Extra dinner at the Casa, in case you feel like staying in and want a healthy meal you can book a dinner at home with Lucia. 24 hour advance notice required.
One on one consultations: book your private consultation with Lucia, with her Body Systems questionnaire, she can determine where you need to focus healing. She will provide you with a sample meal plan, lifestyle and diet recommendations.
Private cooking class: this can be arranged for any dinner, you pick the menu and she will show you how to make it!