EMAIL:
[email protected]
LOCATION:  Casa Flor de Mayo is on Isla Mujeres, a Mexican Caribbean gem. Fly to Cancun; After a thirty minute shuttle from the airport, you are standing on the water's edge at Puerto Juarez. Step aboard for an eighteen minute ride in a modern catamaran-style high-speed ferry across the gorgeous calm waters of Cancun Bay.
Step ashore! Now you are on island time – Mexico style! The mainland is close, but luckily feels far, far away. Isla is a narrow barrier island just off Cancun, only five miles long. And easy to explore.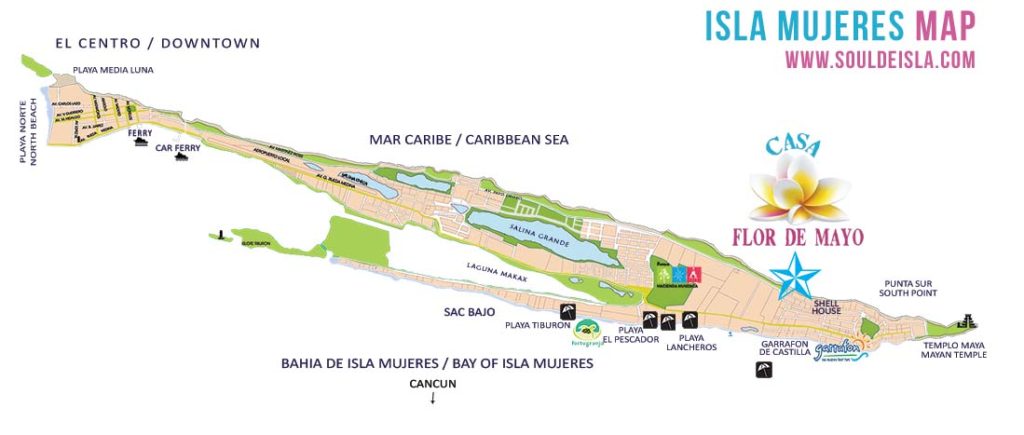 It has been a fishing village for centuries (still is – so enjoy the fish) but is also a home to many activities as well as a Mexican Naval Base. The small island has all the comforts but still many charms of local culture that make it a fabulous, unique, friendly and safe experience. Experience a piece of Mexican culture; the beauty, relaxing vibes and welcoming atmosphere, the world-class beaches, the village, the fishing, snorkeling and diving, the amazing selection of music, food, drinks, bars and restaurants, and most important, the lovely local people making this island a unique experience.
South Point or Punta Sur, the local designation for the southern part of the island where the villa is located, has a great reputation for its quiet local vibe, peaceful natural setting and fabulous views.
As you drive south on the Caribbean side of the Island, there is a long stretch of coast where the road is almost at sea level and on the edge of the water. There are no oceanfront houses for a long stretch of the island, until you get near to South Point.
The road will veer to the right and up a small hill before curving left again and proceeding south. There are now villas on both sides of the road. A few units along, Casa Flor de Mayo is on your left.
On Isla, there are very few large hotels and only a few offering the all-inclusive packages typical of the Riviera Maya or Cancun beach zone. After a week on Isla, you will hopefully thank your lucky stars for not going all-inclusive!